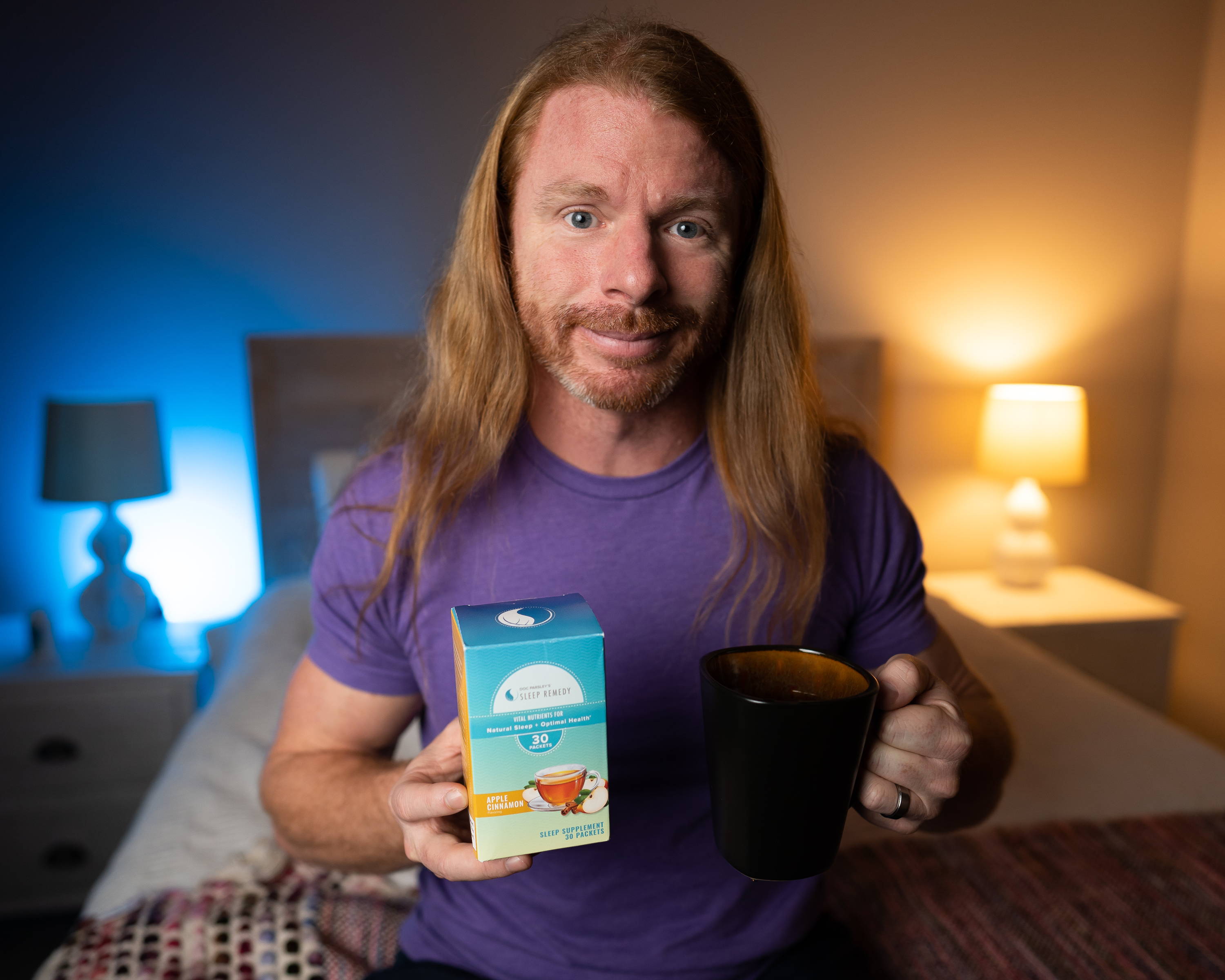 Sleep Remedy comes in 2 formats – tea (apple cinnamon) or capsules.
The ingredients in both are known to be equally effective at helping your body naturally decrease stress hormones while boosting relaxation chemistry in your brain for a deeply restorative sleep.
But here's the best part –
Sleep Remedy costs less per day than your daily coffee (which you probably won't need once you start sleeping well!)
There's no catch here… just great, deeply restorative sleep.
WHAT PEOPLE ARE SAYING ABOUT SLEEP REMEDY

Nothing Compares!
"Like most people, I've tried many over the counter sleep remedies and have found none that compare to this product. I'm not groggy in the morning after I use it, and it combines vital nutrients we need to have healthy sleep routines for optimal recovery and repair. I recommend this product to anyone who needs a better sleep plan."
John M.

So absolutely amazing.
"I can't even begin to explain how thankful we are we found this. After not sleeping in a sound manner for over a year, this has been just so absolutely amazing. Performance and showing up with authenticity is such an important part of our lives and business. No matter how hard you work to push through, it's just impossible without proper sleep. We are finally getting back on track and thankful to have found this to be a dynamic contributing factor!"
Michael R.

Try it. You will love it.
"This is the best sleep product on the market. I recommend it all the time and send it to friends to try often. I use it when I travel and it helps me minimize jet lag. I get the sleep I need. It has recently helped a friend who had a bad concussion. I can't say how amazing this product is. Try it. You will love it."
Lacie T.
FREQUENTLY ASKED QUESTIONS
WHAT ARE THE INGREDIENTS?
Our sleep product is comprised of the nutrients involved in the production of melatonin:
• L-tryptophan
• 5HTP
• Vitamin D3
• Magnesium
• Phosphatidylserine
• L-theanine
• GABA
The quantities of each ingredient are intended to replenish normal levels of these nutrients, to allow for the normal production of melatonin, and to help initiate the initial cascade of events that lead to deep, natural sleep.
Doc Parsley's Sleep Remedy is designed to restore commonly deficient nutrients associated with sleep. In Dr. Parsley's experience, once these nutrients have been restored to optimal levels, most people have vastly improved sleep. Your body is still doing all the work. We are just giving your body the materials it needs to create great sleep.
DOES IT HAVE THE DROWSY SIDE EFFECTS?
Because we are not aiming to trick your body's normal physiology, the common side effects associated with sleep aids are unlikely. The side effects of many sleep aids are caused because the medication is mimicking or blocking a normal process in the body or brain. Our formulation is not designed to mimic or trick—just provide your body with the resources to do its natural processes.
IS IT SAFE TO GIVE TO MY CHILD?
This product has not been tested on children. It is not recommended for individuals under the age of 18.
HOW MANY SERVINGS ARE IN A MONTH SUPPLY?
There are 90 capsules per bottle and 30 packets per box. A serving is 3 capsules or 1 packet. The total servings in one bottle/box is 30.